Bayard Audio
Today, audio is a medium in its own right, popular with parents and at the heart of Bayard's expertise. What's more, listening to audio books is unquestionably on the rise in French reading habits.
An audio publisher for over 25 years, notably through its children's magazines J'aime Lire, Belles Histoires (Bayard Jeunesse), Histoires pour les petits, J'apprends à lire (Milan Presse), the Bayard group has recently created an entity dedicated to audio for its youth audience: Bayard Audio.


Major publishing successes from both Bayard Éditions and Milan Éditions have been the subject of acclaimed original audio creations: Les feuilletons de la Mythologie by Murielle Szac, Mes P'tits Docs (1st documentary collection in France) or the audio adaptations of the adventures of Petit Ours Brun, SamSam or Mortelle Adèle, enriching a unique audio heritage of over 400 references.
Finally, 4 years after launching its 1st podcast, Bayard Jeunesse now boasts a cumulative audience of over 20 million, with original programs such as La grande histoire de Pomme d'Api or Curieux de sciences, launched by the monthly Images doc with the Museum national d'histoire naturelle.
Bayard Audio's mission :
Accelerate audio creation based on existing creative universes, but also welcome new sound talents and projects to the group.
To make this exceptional heritage accessible to all, in France and abroad, in all existing and future listening venues.
Bayard Audiois made up of a team of 7 people, headed by Emmanuelle Marie, Director of Audio and International Development for the Group.
Contacts (click on the name of the person to contact them) :
Emmanuelle Marie, director
Editorial
Héléne Hauri, audio producer
Antoni Fournier, audio producer
Sales and Marketing
Stéphanie Simonin, sales and marketing director
Alexis Pelle, sales and marketing manager
Production
Aude Le Petit, audio coordinator
Michael Shneider, audio production manager
Thomas Marchal, youth audio and digital project manager
Visit us on LinkedIn for all the latest Bayard Audio news!
Podcasts
Bayard Jeunesse
The editorial teams of Bayard Jeunesse magazines are giving their readers (and their parents) the chance to listen to stories, follow the news or get to know each other better. To discover them, go to
this website
!
La Croix
"L'envers du récit", "Place des religions", "C'est ça l'Amérique", "Croire, les voies de la prière"… La Croix podcasts are available on podcast platforms, on
La Croix's website
and on the La Croix app.
Bayard Éditions
Histoires de jeunesse
is the podcast dedicated to authors of children's literature, taking listeners behind the scenes of writing and creation. In this podcast, the world's leading children's authors open their doors to us and tell us the most exciting story of all: the story of creation.
Le Pèlerin
Le Pèlerin
offers several podcasts:
Prions en Église
Prions en Église
accompanies its readers with podcasts during the major Catholic seasons: Advent, Christmas, Lent and Easter. Discover, for example,
Un Carême de rencontres
on
Prions en Église
's website!
Milan Presse
Milan Presse magazines offer a range of audio content that you can discover on
their website
d !
Terre Sauvage (Milan Nature et Territoires)
The audionaturaliste Fernand DEROUSSEN and the magazine Terre Sauvage propose a sound ambiance, without commentary.
3 minutes de nature,
is the podcast that takes listeners on a journey through the seasons..
ViveS
Because building real economic independence necessarily involves financial education, we need to help women change their attitude to money. ViveS offers
Osons l'Oseille
, the podcast that will help you relax your relationship with money and strengthen your financial autonomy!
Radio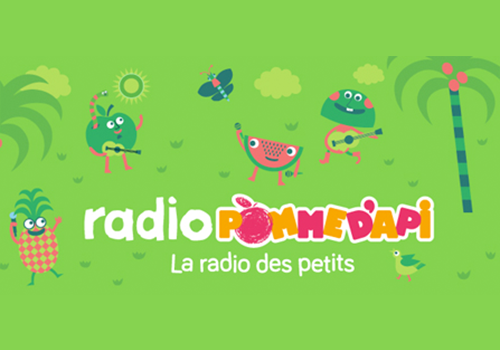 Radio Pomme d'Api is the children's radio station that parents also listen to. All day long, songs, rhymes, stories and poems to discover the wonderful world of oral literature. With a word, a note, listen and discover with your children all these artists who give their voices to enchant life: from Anne Sylvestre to Alain Schneider, from Henri Dès to Roi des papas, from Jo Akepsimas to Pascal Parisot, ZUT or les P'tits Loups du Jazz. With stories by the best contemporary storytellers and comedians, and an introduction to all musical genres. And every evening, at 8:15pm, a great story to listen to !
Musique
ADF-Bayard Musique, a subsidiary of Bayard, groups together several labels :
The ADF Musique label offers religious music: liturgical and religious songs.
The Studio M label covers classical and sacred music.
Label Ouest presents a catalog of chanson, jazz and world music.
Finally, the Arc en ciel label offers music for children.