Animation
Ariol, SamSam, Petit Ours Brun, Tom-Tom et Nana: paper characters become animated !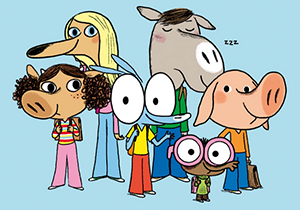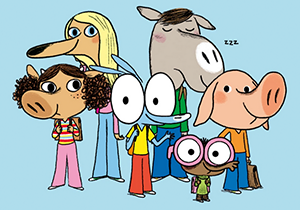 In 2002, Bayard created an audio-visual department to produce (and co-produce) cartoon series principally from characters featured in its magazines (Pomme d'Api, Les Belles histoires, J'aime lire, etc.) and books. Since its creation, Bayard Jeunesse Animation has coproduced several animated series based on some of these characters. These include Ariol, with the Folimage studio (2 seasons shown on the private French television channel TF1 and the Piwi+ channel); SamSam with Folivari (broadcast by France Télévisions); Petit Ours Brun with Fabrique d'Images (shown on the France 5 public TV channel); Tom-Tom et Nana (with a new series produced with 4.2.1 for Canal+, to be shown during the summer of 2019); and, finally, the adventures of Zouk, the character from Les Belles histoires magazine (currently in development with Canal+).
©Crédit : Ariol – Emmanuel Guibert & Marc Boutavant.
The Bible: stories and cartoons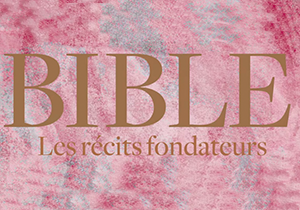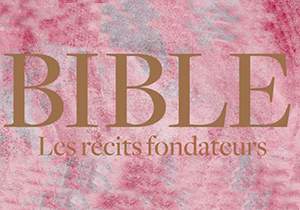 Bible – Les récits fondateurs is a book and an animated series which tells the stories of 35 of the most well-known tales from the Old Testament. Telling stories about the Bible is like telling stories about the world in which we live. The subjects are the same: migrations, wars, love stories and power struggles, fratricide, jealousy, treason and death. From Noah to Moses, from the Garden of Eden to the destruction of Sodom, and the murder of Abel to the Judgment of Solomon, the Bible tells stories about us, as individuals and as a society. The animated series was written by Frédéric Boyer and illustrated by Serge Bloch. The original music was composed by Benjamin Ribolet, and the series was narrated by André Dussollier. Work on season 2 (The Gospels) is currently underway.
1jour1question (1 day 1 question): current affairs for kids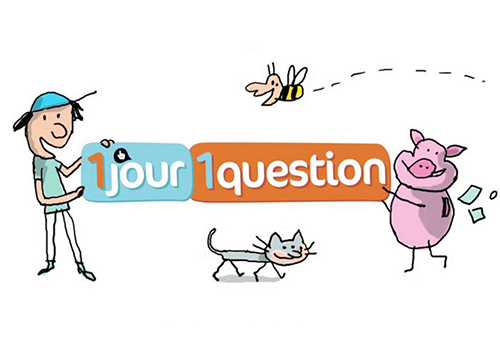 1 jour, 1 question (1 day, 1 question) is an animated, current affairs series where every day a child asks a question, and the answer is given in 1 minute 30 seconds. The explanatory comment is always funny, and this is supplemented by Jacques Azam's playful and mischievous illustrations. This programme was designed by Milan in collaboration with France 4, FranceTV Éducation and Ludo, and helps children to devise their own reasoning and grasp the key elements which will enable them to form their own opinions.
Music
ADF-Bayard Musique, a Bayard subsidiary, brings together several labels :
The ADF Musique label for religious music: religious and liturgical songs
The Studio M label for classical and sacred music.
Label Ouest presents a catalogue of songs, jazz and world music.
Finally, the Arc En Ciel label for children's music.
ADF-Bayard Musique portal site
Podcasts – Digital audio
La Croix: L'envers du récit (The Making of) podcast
In the L'envers du récit podcast, a journalist from La Croix tells the behind-the-scenes story of a report, the circumstances before the story was written, the journalist's personal experience of the story, and how the story progressed. In this original series, entirely produced by La Croix, the author of an article or the photographer of a photograph tells the story of his or her report or photo essay which is often punctuated with intense encounters and unexpected moments.
These episodes are available every Wednesday on podcast platforms [ITunes, Spotify, Deezer, PodcastAddict], and on La Croix's website and app.
Pèlerins dans l'âme (Pilgrims at heart): Franck Ferrand's podcast about famous pilgrims
In the weekly magazine Le Pèlerin, the historian and story-teller Franck Ferrand follows in the footsteps of famous pilgrims in search of meaning, from Charles de Foulcauld to Sylvain Tesson, as well as Alexandra David-Néel, George Sand and Jean-Christophe Rufin. Share the journey in the footsteps of these famous people.
Bayard Éditions – Histoires de jeunesse (Stories for Children)
Histoires de jeunesse is a podcast about the authors of children's literature. It explains the behind-the-scenes process of writing and creation. These stories for children create emotions, enable listeners to identify with the character, to make them think about others and themselves, and to discover the pleasure of reading. However, there is an unsolved mystery: where do these stories come from? How did they enter the minds and imaginations of their authors? Are they based on adverse reactions, emotions, readings or songs ?
During this podcast, some of the indisputable leading authors of children's publications let the listener into their worlds, and tell the most exciting story of all: how they created their story. This podcast will appeal to everyone, from listeners who are very enthusiastic about children's literature to booksellers, librarians, and teachers. Everyone will enjoy sharing these emotions.
Radio
Radio Pomme d'Api: the webradio for the young !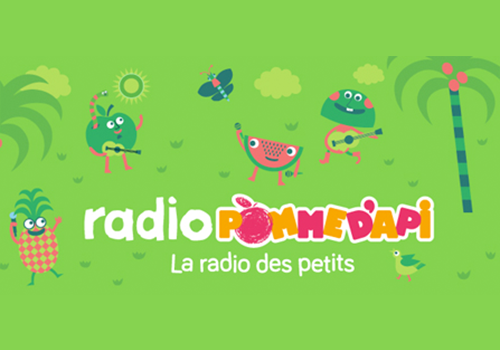 Radio Pomme d'Api is a radio station intended for young children and their parents. There are songs, nursery rhymes, stories and poems throughout the day, allowing children to discover the wonderful world of oral/spoken literature. Listen with your children to the words and music, and discover a host of artists who brighten up our lives, such as Anne Sylvestre , Alain Schneider, Henri Dès, Roi des papas, Jo Akepsimas, Pascal Parisot, ZUT and the P'tits Loups du Jazz. The stories are narrated by the best story tellers and modern-day actors, and there are all sorts of styles of music to stimulate children. Tune in every night at 8.15pm for a long story !
©Crédit image en bandeau : Serge Bloch, Bible – Les récits fondateurs ("Babel, le récit d'une folie totalitaire")